I photographed this woman in Seattle and had an inspiration to write this fictional short story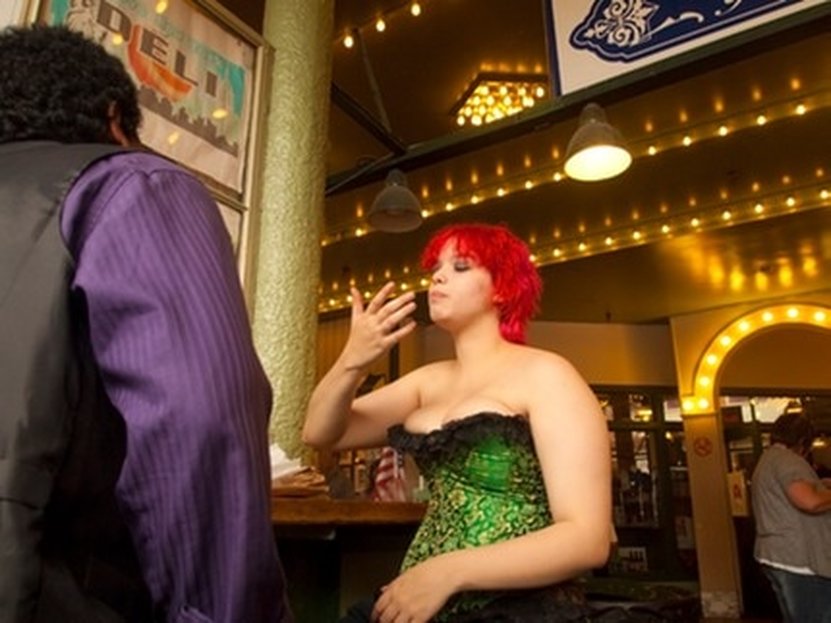 I have an obsession with those soft pastry delights; donuts.
My first fond memories are of my brother and me, out with my father. We would leave my mom home every Saturday night; irritated and upset, and go driving endlessly. But it was not purposeless motoring. It was as if my father had radar for all of the Krispy Kreme stores that had their red "Hot Now" signs lit.
We would drive those roads, from town to town, store to store; my dad letting us get whatever and as much as we wanted. We got sick on every trip but nobody cared, except my mom, who had to deal with us when we eventually made it home.
We never could figure out how the waitresses greeted him by name and why they flirted with him. The funny part was that he was a fat slob. He would boldly come on to the waitresses, right in front of us, making them blush. I always wonder now as an adult, about the giggles we heard coming from the back, where he went with some of them. I have no idea how he did it.
But as a kid, there was nothing better than eating those hot cakes and then feeling that sickening; mind numbing, sugar buzz, as we drove to the next shop.
Those nights had a profound psychological impact on me because I cannot resist those much maligned fried dough treats. And, as I grew older, I developed this strange connection between donuts and sexuality. So it was inevitable that when I heard about the Donut Whore of Pike Street Market, I had to meet her.
I am in Seattle, after much travel, time and expense, to find, meet and love her; the one I heard was the sweetest woman in America. The past few days of anticipation have been like a confectioner's concoction of lust, desire and craving.
When I heard about her I thought she was an urban legend. Then, she was confirmed. A chance lead on the Internet and then, modern day instant contact.
Even though I am not a rich guy, I had to see her, eat with her and then love her. I managed to make it into Seattle 2 days later.
When we spoke on the telephone, she was excited that I had heard of her and she ignited me by telling me straight off that she preferred to meet at the donut shop.
We made plans to meet before I left for Seattle. I arranged our encounter in the early afternoon, shortly after I arrived in town, right off the plane. I was afraid that the plane would be late but the plans were perfect. I recently read that the anticipation of happiness is 80 percent of pleasure. I could not wait until nighttime to have my joyous expectations fulfilled.
She told me I would see her at the Market near the fishmonger where all the tourists watch the fish get thrown. She let me know she was a redhead and that no further description was necessary; I would recognize her when I saw her. I am sure she has dished that line to many a man. I was more than a little worried that I was flying across the country to meet this whore who liked donuts and all I knew was that she had red hair and where and when we were going to meet.
But at the arranged moment, there she was. Oh what a sweet tart. I was smitten. She looked like a lollipop, in a tight green wrapper, partially unwrapped. Of course I recognized her. There are no two alike.
I expected her to be a little older for some reason. Maybe it was her voice, or maybe just the way she conducted herself in our contacts. Anyway, this was good. She had a little acne. That was not so good, but not so bad. Donuts breed acne. I should know.
She knew who I was by the look on my face. Initially, we did not say a word. She hooked my arm, pulled me close and gave me a long, slow lingering sweet kiss. After several minutes of this, with the tourists staring, she guided me around the corner to the long and slow line in front of the tiny donut booth. I could feel her warmth. Man those donuts were popular.
We talked while waiting, but about what, I do not remember. It was mostly her, prattling on. Mostly about those donuts, I think. I only know that I was hot. And it was not just my too heavy clothing, the heat of the place or the crush of people. I was flush with excitement and anticipation while I was waiting with her.
Behind the booth they shaped the raw dough into much smaller donuts than I was used to; then dropped them in a vat of boiling oil. In minutes they were cooked. They sold 3 different kinds; sugar, cinnamon and plain. When you bought them, they dumped them all together in this little bag. To tell you the truth, once they put them in there, they all tasted the same. And the bottom and sides of that little brown bag was soaked with grease by the time we sat down to eat. The top of the bag poured out steam when she opened it.
You could get a dozen or a half dozen and she wanted the full bag. And boy, did she chow down. They were hot, greasy, doughy, a little undercooked, sugary and wonderful. If you did not watch out, you would burn your fingers and worse yet, the roof of your mouth.
Cynthia, that was her name, was an expert at eating the messy cakes. She knew how to hold them to avoid flaking the powdered sugar on her dress. She popped them into her mouth expertly. And then she licked her fingers, each in turn, until the hand was thoroughly cleaned. Then she started on the other hand. She did it after each bite, occasionally allowing two to go by before commencing the process again; eating and then delicately preening like a cat or bird.
You can only imagine the reaction that she caused in me. She was exactly was I was hoping for, what I had fanaticized about since I heard about her, really since I was a kid. But, she was taking forever. She could not earn a lot at this rate, if this was her ritual with all the guys.
I brought my camera and had some idiot who said he knew how to use it take a picture of us. Unfortunately, he obviously had no idea what he was doing and took the picture too early and we never checked it until later. Only my back is in the picture. Still, the shot shows her, which I guess is what is most important. I know what I look like.
I love that skin tight green dress. It is outrageous. I want to peel it off and lick. Those pushed up and almost exposed ripe melons. I tried not to stare but the dress was so low that I was sure that her nipples were just peeking out of the top. When I got to her house, I would not be so shy. A different girl would have been tugging her dress up all day. She did not do it once. She appeared to be oblivious to the image she portrayed, or, more likely, she was pleased with it and wanted to show it off.
She took her time and I was again having anxiety. When was she going to be done and when were we going to leave? Finally, she finished the last one and we were ready. To be polite, I asked her if she wanted some to take some home. She hesitated, and then told me that she had eaten there for breakfast. I could see she was calculating in her mind. Then she told me to only get a half dozen; this time "for fun". I thought that even if it were a short walk to her house, those greasy dough balls would just fall right out of the bag
It was another interminable wait in line for those extras. But man, I can assure you she put them to their best possible use. Never have been donuts been put to more salacious purpose.
Life is too short to dream about the sweet things to do next. We need live out our dreams and sugary fantasies.

Slice of Life, Images and Commentary by Michael Dubiner